I have been very lucky that many professionals and friends I've met and worked with throughout my journey have assisted in the progression with a reduced rate or no cost. Below is a shout out to some of these special people who have helped me see this incredible project through, and those who are still helping me achieve my inspirational vision.
Chris Griffin
Chris Griffin is a Registered Nurse (RN) with 20+ years of experience in the emergency department and formerly a Lead Medical Officer on a major cruise line. She is also the mother of four children and oldest sister of Rob Besecker. She has travelled extensively to include all seven continents of which four were with her youngest brother, Rob.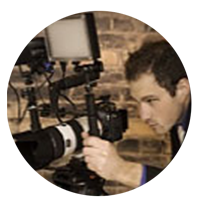 From crayons and paper as a child to a professional videographer as an adult, I have been on all sides of art. I am fully capable in video production as well as animation, photography, design, and more! Please check out my work, and if you like anything make sure to share it with others!
Whether you need sports injury rehabilitation or help meeting your weight loss and nutrition goals, McCahill Chiropractic & Sports Injury Rehab can help.  Chiropractic alignment is just the beginning of a pure fitness plan.  When combined with weight loss  strategies, nutritional counseling, and injury rehabilitation, you'll gain strength, look and feel better.