About Me
Strong is who I am.

In the beginning
I was a successful student athlete in high school, earning both academic and athletic scholarships to college where I was later elected president of both my fraternity as well as the entire Greek Council. After college, I became a manager for a major airline and later finished my MBA from Purdue University. I've worked in healthcare for more than 10 years, mostly with a large organization in the Chicagoland area educating healthcare professionals and the community at large on hospice and end of life care.
I have accomplished many noteworthy things in my life, but you can't always judge a book by its cover. Due to genetic predisposition, I have been suffering from chronic and progressive heart ailments and muscular dystrophy for many years. The day to day struggles of fatigue and pain in my life have not been easy. In 2011 alone, I endured 20 ICD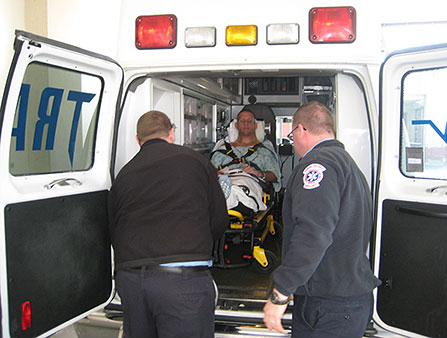 (Implantable Cardioverter Defibrillator) shocks, 5 cardiac related surgeries, 7 ER visits, 6 ambulance rides, 5 calls to 911, and a collapsed lung. Many people, including some of my physicians and closest friends, questioned my survival – much less my recovery.
In spite of all the challenges I've faced, I have always found the strength to move forward, make the best of every situation, and fight every obstacle that stood in my way. Life is full of detours that require me to consistently evaluate and update my goals, and I have never let anything stop me from achieving what I set out to reach.

My adventures
I've always been an adventurist. Through the years, I've visited all seven continents, the Great Pyramids, the Great Wall of China and so much more.
During the summer of 2014 I was able to spend July 4th watching fireworks next to the reflective pond in Washington DC, as well as attend a home game at the final three of all 30 MLB (Major League Baseball) stadiums, completing two personal goals of mine.
However, my biggest adventure and the ultimate tests of my strength and endurance came in the spring of 2015, as I embarked on a hiking expedition to the base camp of Mt. Everest. It was a hike many told me I should never attempt. But this trip was not just a milestone for me, it represented an exclamation point in my recovery, and overcoming some of the detours in 2011. It was a grueling journey and encompassed significant challenges to both my physical and emotional well-being, up to and including the horrific earthquake that took place on April 25, 2015 killing thousands of people and separating me from my sister while I was stuck in the mountains of Nepal.
Needless to say, Everest was an amazing challenge that I'm thankful I was able to overcome and write about!

Connect
Learn more about how I've overcome adversity and managed to live a life of adventure despite debilitating health.
Connect with me and follow my story:
 Please consider making a donation to help support editing and publishing costs toward this self-funded project. Every donor makes a difference.